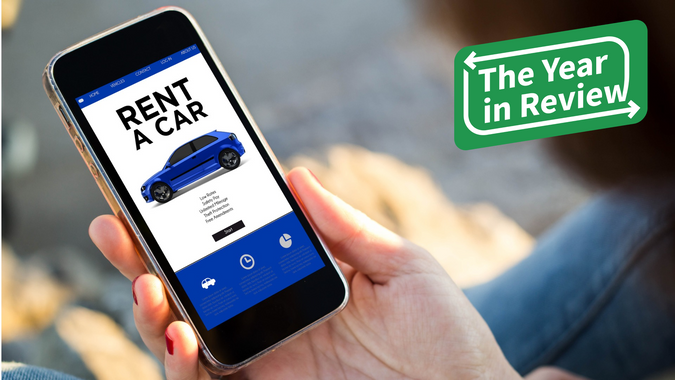 milindri / iStock.com
At the end of 2020, the future of travel was unclear, with expectations of a rebound revolving around whether or not we'd have an effective vaccine in the new year. Fortunately, the vaccine was widely rolled out in the U.S soon after, and Americans got back to business — and pleasure. 
More Savings: 13 Insider Secrets From Travel Agents That Will Save You Money
Freebies: 35 Things Your Hotel Will Give You for Free
Though the travel industry at large has yet to be back to where it was in pre-COVID-19 times, 2021 proved that America's relationship with travel is resilient, and that not even a global pandemic can stand in the way of our love of getting out of dodge.
Here's a look at how various sectors fared over the past year, and what we might expect to see in 2022.
Airline Ticket Sales Soared
"Airline ticket sales ramped up in a serious way throughout 2021," said Willis Orlando, senior product operations specialist at Scott's Cheap Flights. "Airline revenue, which was down 64% from pre-pandemic levels at the end of 2020 is forecast to be down about 16% at the start of 2022 according to Airlines for America, emphasizing just how much ticket sales have improved. Similarly, daily TSA traveler throughput by late 2021 was more than double what it was in 2020, and just a hair shy of 2019 numbers."
Tips: How To Plan a Last-Minute Holiday Vacation With Kids — Without Breaking the Bank
Leisure and Business Picked Up
"Leisure travel was significantly up over 2020, and we started to see the return of business travel as well, as vaccines started to be administered throughout the world," said Alex Miller, founder and CEO of UpgradedPoints.com. "We saw significant demand for travel as a whole, but also saw international travel lag beyond expectations, even with the reopening of borders. People weren't as comfortable heading abroad, and this was evidenced by airlines suspending many routes until 2022."
Learn: Things You Can Get For Free in Every State
The Private Jet Space Got Much More Crowded  
The majority of the world may be scraping up change to pay for their holiday flights — but the one percenters aren't having any trouble flying high. 
"While many parts of the travel industry have continued to struggle, the rebound in private jet travel in the U.S. has been breaking records on a weekly and monthly basis," said Doug Gollan, founder and editor-in-chief of Private Jet Card Comparisons. "Much of this is being driven by new private flyers who could always afford it, but previously didn't see the value. They were initially driven by covid avoidance (fewer touch points — less than 20 compared to over 700 with the airlines) and now avoiding crowded airports and inflight melees, masking requirements  and also because airline service is still below pre-Covid levels."
Airport Food Spending Held Steady, but Had Its Complications 
"In our 2021 J. D. Power survey of North American airports, we saw that the percentage of persons buying food or beverage held steady at 50%," said Mike Taylor,travel intelligence lead at J.D. Power. "In other words, only half of an airport's passengers purchase food or beverages while in the terminals. Of course, there were far fewer passengers than a 'normal' year. The average reported spend for airport food, beverage and retail increased from $32 per person in 2020 to $34 in 2021; however, passengers did wait longer and had trouble finding open outlets where they could spend money."
Important: Why You Should Consider a Travel Agent To Book Post-Pandemic Travel
Travel Insurance Was a Must-Have 
"In 2021, we saw that people became more aware of the need to purchase travel insurance due to the ever changing travel landscape brought about by the pandemic," said Greg Jung, senior vice president of sales and marketing with Seven Corners, a global travel insurance company. "Travelers continued to place greater importance on safety, cleanliness and flexibility when booking travel, as opposed to luxury or comfort, also contributing to consumers' increased awareness of travel insurance. In fact, the instance of travelers purchasing travel insurance for their trips increased by 50% in 2020 and continued into 2021." 
The Vacation Rental Market Boomed
"Vacation rentals didn't follow the same pattern as other parts of the travel industry in 2021," said Marcus Rader of Hostaway, a vacation rental management software provider. "Bookings were at their highest ever and our business, which helps vacation rental owners and professionals manage their bookings with platforms like Airbnb and VRBO, grew by 5 to 10% month on month.
"We saw the average group size increase from 2.1 travelers to 2.8 travelers per booking for vacation rentals," Rader continued. "The seasonality of trips also changed as people were staying at places whose popularity was traditionally dictated by weather all year round."
Find Out: Flying vs. Driving: Which Is More Cost Effective for Travel This Year?
Boat Rentals Made a Splash  
"In 2021 at GetMyBoat, we saw a massive increase (from an already record-breaking 2020) in demand for boat rentals and private on-water experiences enjoyed by small groups of families and friends," said Val Streif, marketing manager at GetMyBoat. "We're already seeing bookings for popular weekends (the 4th of July feels so far away, but in the boat rental world, it's already being booked up), and planning ahead is becoming essential." 

Resort Travel Was All the Rage 
"Sandals saw its highest bookings in 2021, with trends for the summer, fall and winter above historical averages," a spokesperson for Sandals Resorts told GOBankingRates. "Sandals Resorts operated at over 90% capacity this summer, and September + October, which are typically a bit slower than peak summer and winter months, were up 151% compared to 2019."
Tips: How To Save Money on Rental Cars for Your Upcoming Trip
Train Travel Was More Popular Than in Pre-Pandemic Times 
"Domestic train travel in 2021 outpaced 2019 as customers couldn't cruise or travel internationally, so we experienced huge growth," said Frank Marini, the CEO of Amtrak Vacations and Railbookers. "Another interesting fact is that 70% of our customers were new to train travel. For 2022, as it relates to domestic train travel, we are ahead of the same time in 2019 for 2020 by +89% as many customers did postpone their 2020 or 2021 vacation to 2022. And of that, +57% is new business going into 2022."
International rail travel is also having a moment, currently up +115% from the same time in 2019 for 2020 and of that +86% are new customers, Marini said.   
Car Rentals Were Out of Control — And 2022 Is Looking the Same
Anyone who tried to rent a car this past year knows that the once easy travel move has become more laborious — and expensive — than in pre-pandemic times. 2022 is forecast to be just as chaotic for roadsters. 
"As far as rental cars are concerned, 2022 is shaping up to be a repeat of 2021 from a high-rate perspective," said Michael Meyer, president of Rate-Highway, a provider of car rental real-time rate management intelligence and competitive rental pricing systems. "For instance, travelers should expect spring break car rentals to be as difficult to find as 2021 from a price and availability standpoint due to the lack of fleet in the U.S. Compounding this, however, is that we expect European travelers to still be able to visit the U.S, despite Omicron — so there will be increased demand. Interestingly, European travelers tend to book their cars sooner than domestic travelers do, making the competition tighter right out of the gate."
The Future Is Cloudy but Bright 
Though we have yet to see how dangerous the Omicron variant can be, the consensus in the travel industry is that 2022 will pick up where 2021 left off. There will be excitement and growth — but not without some serious snafus. 
"Given what we saw throughout 2021, it's fair to expect a continued, gradual reopening of the world as we move into 2022, with inevitable setbacks," Orlando said. "The airline industry has gained valuable experience, both dealing with sudden unexpected surges in travel interest and in setbacks, such as the emergence of the Delta variant, that makes a lot of us confident that as we move haltingly towards a new sort of normal we'll begin seeing fewer major travel disruptions."
More From GOBankingRates
About the Author
Nicole Spector is a writer, editor, and author based in Los Angeles by way of Brooklyn. Her work has appeared in Vogue, the Atlantic, Vice, and The New Yorker. She's a frequent contributor to NBC News and Publishers Weekly. Her 2013 debut novel, "Fifty Shades of Dorian Gray" received laudatory blurbs from the likes of Fred Armisen and Ken Kalfus, and was published in the US, UK, France, and Russia — though nobody knows whatever happened with the Russian edition! She has an affinity for Twitter.