While the initial onset of the novel coronavirus pandemic devastated most publicly traded companies, a few performed well because of their fortuitous relevance. Similarly, Matterport (NASDAQ:MTTR) stock could be a benefactor due to a new chapter in the ongoing Covid-19 drama.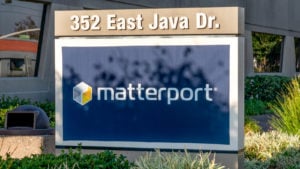 Source: Ken Wolter / Shutterstock.com
This time, the Omicron variant of the SARS-CoV-2 virus may have contributed to intense interest in MTTR stock.
To start off the final two days of November, shares of the spatial-data technology firm closed up a whopping 21% against the prior session. Not only that, MTTR stock enjoyed massive volume, with nearly 19 million shares trading hands when the dust finally settled. Typically, Matterport will see 4.8 million shares move on a daily basis.
Further, the momentum in MTTR stock is not unjustified. If the Omicron variant imposes economic and societal uncertainty – and there are concerns that current vaccines may be less effective against the new strain – such a threat might drive people back indoors. Therefore, technology firms, especially those that help virtualize real-world transactions and activities, may benefit handsomely.
And as Samuel O'Brient, InvestorPlace financial news writer noted, reports indicate that "Matterport is exploring opportunities to partner with Meta Platforms (NASDAQ:FB) to create the 'largest-ever data set of 3D indoor spaces.'"
I hate to use this word because it's so hackneyed, but the proposed partnership would be synergistic for both Matterport and Meta. Ultimately, from their viewpoint, physical interactions could be overrated.
That's the message I get from Wedbush analyst Dan Ives, who touted "the potential for growth among tech stocks during Covid-19 variant scares, particularly for companies operating in the cloud, cybersecurity and 5G spaces."
On paper, then, the narrative for MTTR stock looks incredibly compelling. At the same time, you may also want to consider the metaverse pushback.
MTTR Stock Is Now Swimming in Froth
Earlier in November, Reuters published an article stating that Nextdoor (NYSE:KIND) showcased the "merits of being a safer, gentler alternative to Facebook." Entering the public arena via a merger with a special purpose acquisition company, Nextdoor – which encourages local community driven dialogue and initiatives – is essentially the anti-metaverse.
Personally, it's difficult not to see how the metaverse won't encounter pushback. For instance, retail revenge is a very real concept as consumers were forced into their homes for an extended period. Moreover, Black Friday results were somewhat disappointing because of comparatively weak online sales. At least in part, shoppers wanted the real experience.
If that's the case, I don't think you can interpret this as a positive for MTTR stock. I'm not suggesting that Matterport's technology is irrelevant because it's not. Indeed, I find such spatial-data technology quite helpful, as do millions of others. It's just that there's a risk in piling too deeply into the obvious narrative.
True, a worsening Covid-19 pandemic via Omicron could lift the bullish case for MTTR stock. Through the underlying technology, home buyers and apartment renters can view their future living arrangements without leaving the living room. But even here, the catalyst isn't so clear cut.
During the Covid-fueled housing boom last year, the Washington Post reported that the affluent advantaged low interest rates, in part because they could. Usually, these folks are part of the older demographic. And older people are not the best candidates for full metaverse integration.
As a recent research paper noted, "older adults may experience aspects of cybersickness, with symptoms including nausea, disorientation, and headaches." Further, because the older demo experiences cybersickness more frequently than younger adults in driving simulators, it stands to reason that the former could suffer in VR environments.
Time to Tread Carefully
Now, you can throw the scientific and social objections about metaverse integration out the window and go for a more guttural explanation. As Seeking Alpha commenter "scorpion.north" pointed out, "nobody in their right mind is gonna rent or buy a house based on only metaverse unless they're rich or stupid, or both."
Granted, it's an ungenerous description but the sentiment holds some validity – how much depends on your perspective on MTTR stock. While Matterport might benefit from the Omicron variant and the shift toward the virtualization of everything, such developments assume frameworks that may not necessarily pan out.
For instance, if the Omicron variant doesn't turn out to be that serious, then MTTR stock will have to trade on non-pandemic-related catalysts. Second, not everyone is excited about digitalizing everything. If they were, we probably wouldn't see disappointing online sales for Black Friday.
With this in mind, stakeholders might want to consider trimming their position. I'm not saying sell it all. But a modest profit taking wouldn't be a bad idea.
On the date of publication, Josh Enomoto did not have (either directly or indirectly) any positions in the securities mentioned in this article. The opinions expressed in this article are those of the writer, subject to the InvestorPlace.com Publishing Guidelines.
A former senior business analyst for Sony Electronics, Josh Enomoto has helped broker major contracts with Fortune Global 500 companies. Over the past several years, he has delivered unique, critical insights for the investment markets, as well as various other industries including legal, construction management, and healthcare.