Miles Elementary students learn about charity in tech literacy project
TOM ACKERMAN
Students at Miles Avenue Elementary are spending time during library sessions researching charities and learning about giving.
Fifth-graders finished a three-week project by presenting video of themselves in front of a green screen describing their assigned charity. A class of second-graders watched, and also helped write messages, color cards, and tie tassels for bookmarks that will be donated to children at the Montana Rescue Mission.
"Sometimes when you do a project like this, it just culminates a lot of standards that you could isolate or embed it in a project, where I probably hit up on three biggies that I had to teach them anyway," said Jessica Louk, library media specialist who is spearheading the project.
Students learned to recognize website domains like .org that represent non-profit websites and they cited the information they used.
"I love when we can make tech productive and something that's going to give back to society," said Louk, who has a background in teaching technology.
Students spun a wheel to determine whether they would research the Billings Food Bank, Montana Rescue Mission, Ronald McDonald House Charities, Boys & Girls Clubs of America, American Cancer Society, or Big Brothers Big Sisters of America.
Second-grade teacher Max Melfie supported his students participating because he appreciates the push to collaborate and mix classes where possible. He believes it keeps students happy and engaged. "They needed an audience, and it was perfect for us because we've been working on writing for an audience, and today they got to be an audience," said Melfie.
Second-grader Cora Hoyt neatly drew bulbs onto a Christmas tree card, while fifth-grader Logan Kurschner talked to her about researching the Yellowstone Boys and Girls ranch, after showing the video. "I did not hear of it before but it did make me think about some things," said Logan. "I was curious about when it was made and how many people it helped. It was made in 1957 and it helped 10,000 patients in the last couple of years."
Logan, from Rhiana Austin's class, added that she may want to volunteer at the American Cancer Society after seeing her classmate's presentations because she understands people with cancer have a hard time in life.
Target donated money to buy the books for the project and MRM told Louk the ages and genders of the children in need so she could buy accordingly. As a librarian, she was able to buy books the children would probably enjoy reading, she said.
Louk began the project last year while working in a long-term assignment position at Will James middle school. She was able to grow the scope of the project this year by tying in learning components to the donation.
"It just started with contacting Target and seeing if they could donate, and I just did a simple project there with them, but then this year I knew I wanted to adapt," she said.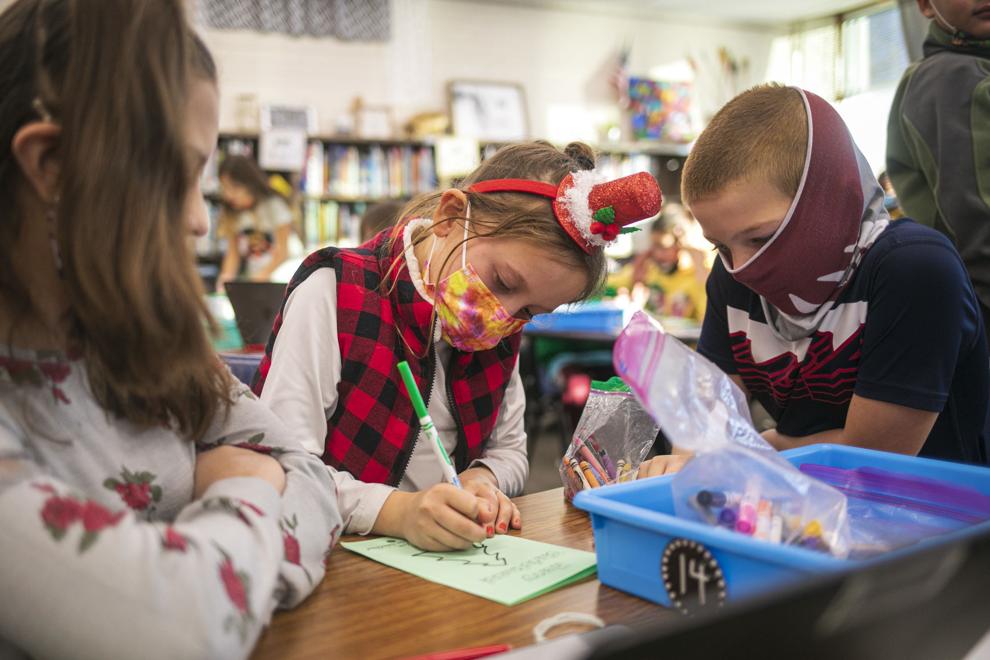 Principal Kristin Wagner couldn't be happier.
"I can only speak to our school, but this team as a whole works amazing together," said Wagner. "[Louk] creates so many opportunities for the students and for the teachers, and she loves to work with the community."
Louk added that some kids seem to think they are too young to learn about volunteering and giving, but she saw an opportunity to disagree and plant a seed —at a time she says is pivotal.
"Sometimes at this age, they think, 'Oh that's meant for adults to volunteer'. I'm like, no, just because you see pictures of adults doing that, maybe when you are in high school, like for Big Brothers Big Sisters, you could be somebody like that. You could mentor. So I'm just kind of opening their eyes a little bit," she said.
Subscribe to our Daily Headlines newsletter.