1 hr 6 min ago
Fire breaks out at a Russian fuel depot near Ukrainian border
From CNN's Masha Angelova, Jake Kwon and Olga Voitovych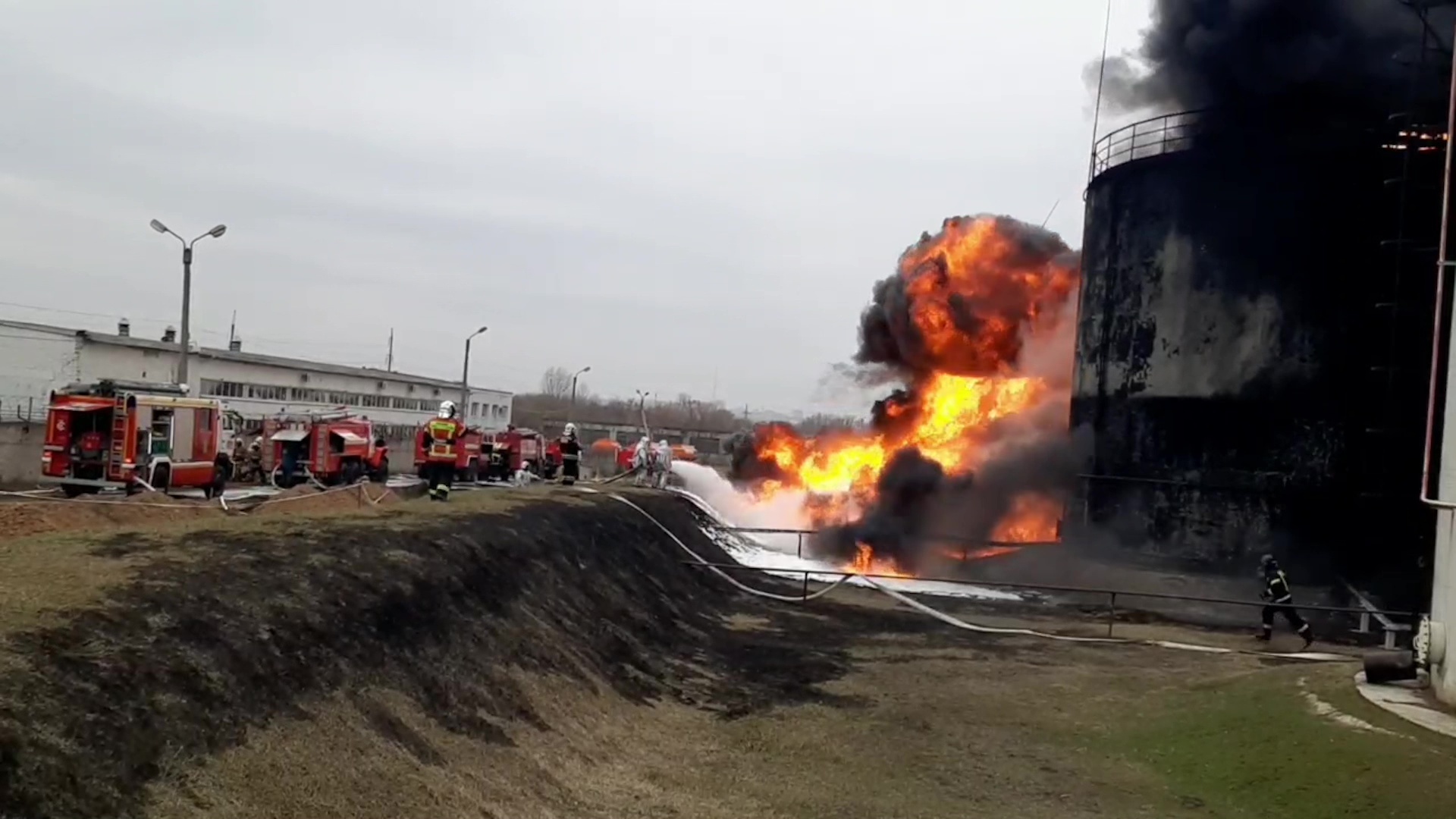 A fire broke out at a fuel depot in Belgorod, a Russian city near the Ukrainian border, the regional governor said on his Telegram channel Friday morning.
Vyacheslav Gladkov, governor of Belgorod region, accused Ukraine of being behind the blaze without providing further evidence.
"The fire at the oil depot occurred as a result of an air strike coming from two helicopters of the Ukrainian Armed Forces which entered the territory of the Russian Federation flying at a low altitude. There are no victims," said Gladkov.
CNN is unable to verify this claim. 
The fire "engulfed fuel reservoirs," Russian state media TASS reported, citing the Russian Ministry of Emergency Situations.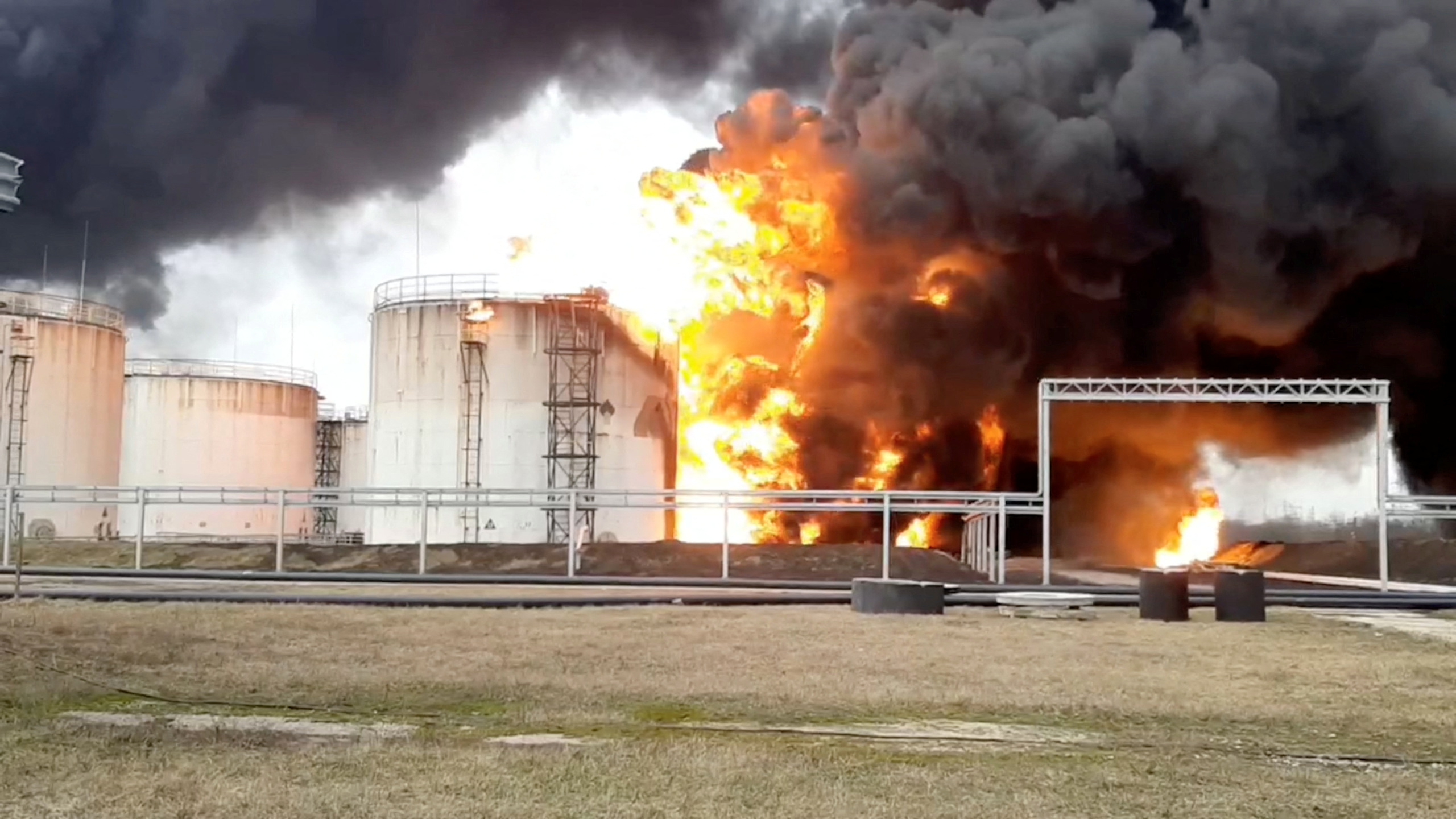 Two employees of the depot were injured in the fire but their lives are not in danger, Gladkov said. Residents in the vicinity of the depot are being evacuated, he added.
The emergency services are at the scene fighting the fire, and there is no threat to the population of the city, Gladkov said.
CNN has sought comment from Ukraine regarding reports of a purported strike by Ukrainian helicopters on the fuel storage facility in Belgorod.
Bohdan Senyk, the head of the public affairs department of the Armed Forces of Ukraine, said there was "no information" about the incident.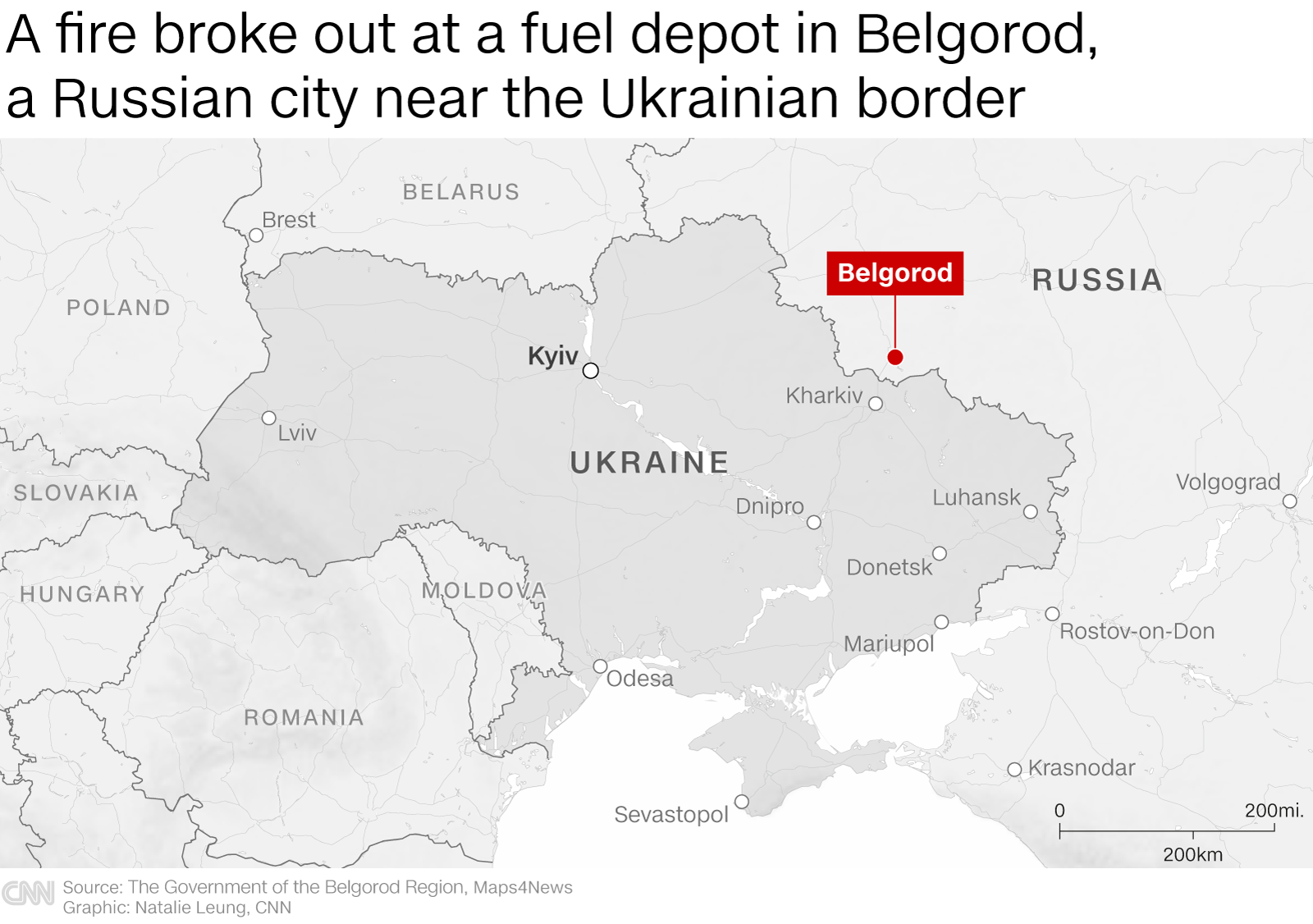 On Wednesday, Gladkov said separate explosions at an ammunition dump in Belgorod region late Tuesday night may have occurred because of a fire, citing preliminary information.
Some context: Belgorod is close to the northeastern Ukraine-Russia border, beyond which lies the major Ukrainian city of Kharkiv. The Belgorod area was used as a staging ground for Russian forces shortly before the invasion, and Kharkiv has since been relentlessly shelled and hit with missiles.
Video shows large fire at Russian fuel depot:
1 hr 31 min ago
Russia's foreign minister thanks India for taking the Ukraine situation "in its entirety of facts"
From CNN's Esha Mitra in New Delhi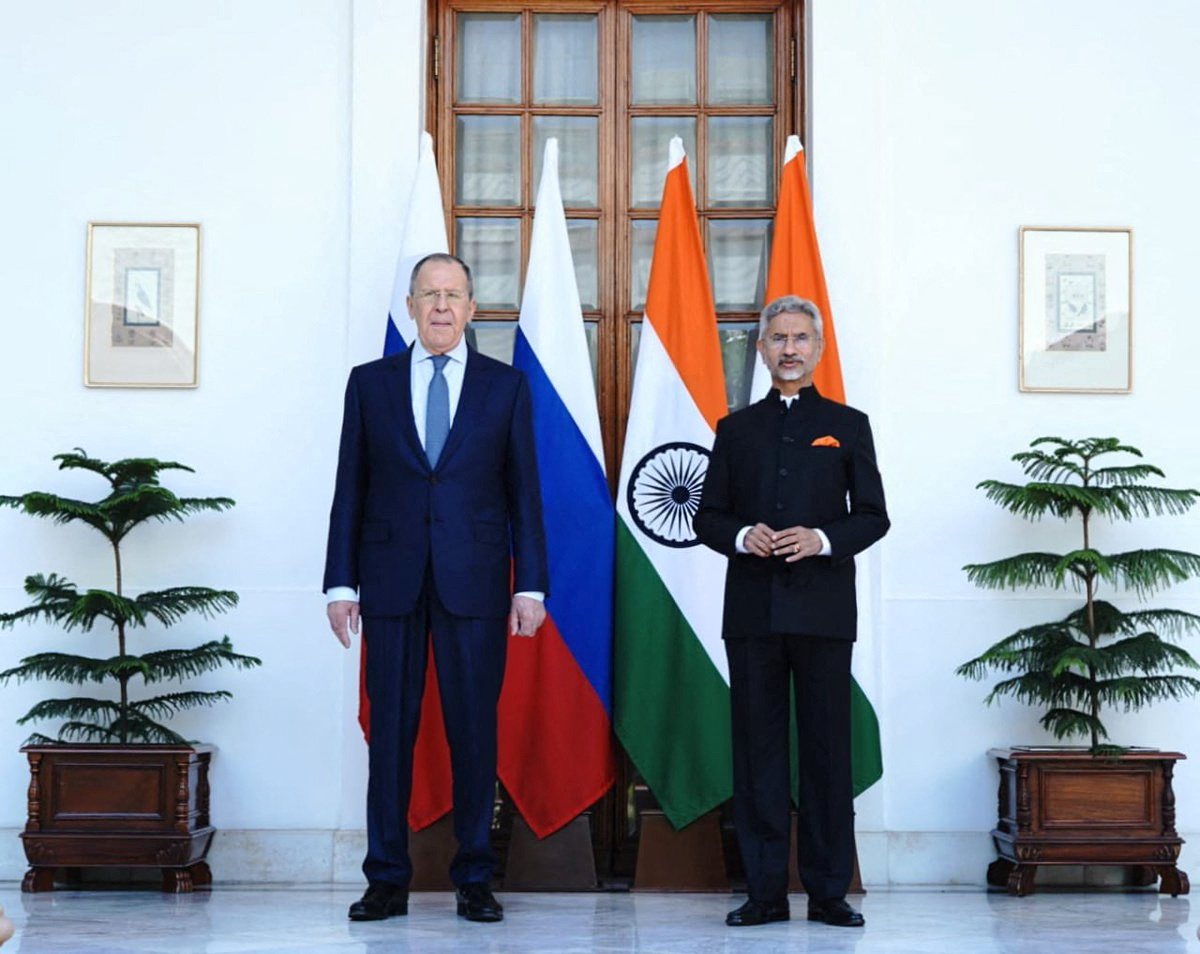 Speaking on Russia's invasion of Ukraine, Russian Foreign Minister Sergey Lavrov thanked India for "taking this situation in its entirety of facts" during a meeting with Indian Foreign Minister S. Jaishankar.
"We appreciate that India is taking this situation in its entirety of facts, not just in a one-sided way," Lavrov said at the conference in New Delhi on Friday.
"Our Western colleagues would like to reduce any meaningful international issue to the crisis in Ukraine, you know our position, we do not hide anything," Lavrov added.
"Friendship is the keyword to describe the history of our relations and our relations were very sustainable during many difficult times in the past … We are certainly interested in having the world order balanced," Lavrov said.
S. Jaishankar said the meeting was taking place "in a difficult international environment," adding that India "has always been in favor of resolving differences and disputes through dialogue and diplomacy."
Lavrov said economic matters and the ongoing coronavirus pandemic would also be on the agenda.
Some background: Lavrov's meeting with S. Jaishankar came hot on the heels of his summit with Chinese Foreign Minister Wang Yi on Wednesday.
Both India and China have been under pressure to condemn Russia's actions in Ukraine as the death toll from the unprovoked conflict rises. They have refused to condemn Russia's brutal invasion outright, and both abstained from voting on United Nations resolutions demanding Moscow immediately stop its attack on Ukraine.
However, by the end of Lavrov's first day in China, Beijing had made its stance clear. Chinese Foreign Ministry spokesperson Wang Wenbin said there is "no ceiling for China-Russia cooperation," according to state-run news agency Xinhua.
Meanwhile, there has also been a flurry of diplomatic activity involving India recently. Earlier this month, leaders from Japan and Australia held summits with their Indian counterparts. Also this week, diplomats from Germany and the European Union are visiting Delhi.
And Lavrov's trip coincides with the visits of Britain's Foreign Secretary Liz Truss and the United States' Deputy National Security Advisor for International Economics, Daleep Singh.
CNN's Jessie Yeung contributed reporting to this post.
2 hr 8 min ago
Aid supplies are not reaching Mariupol, city official says
From CNN's Olga Voitovych in Lviv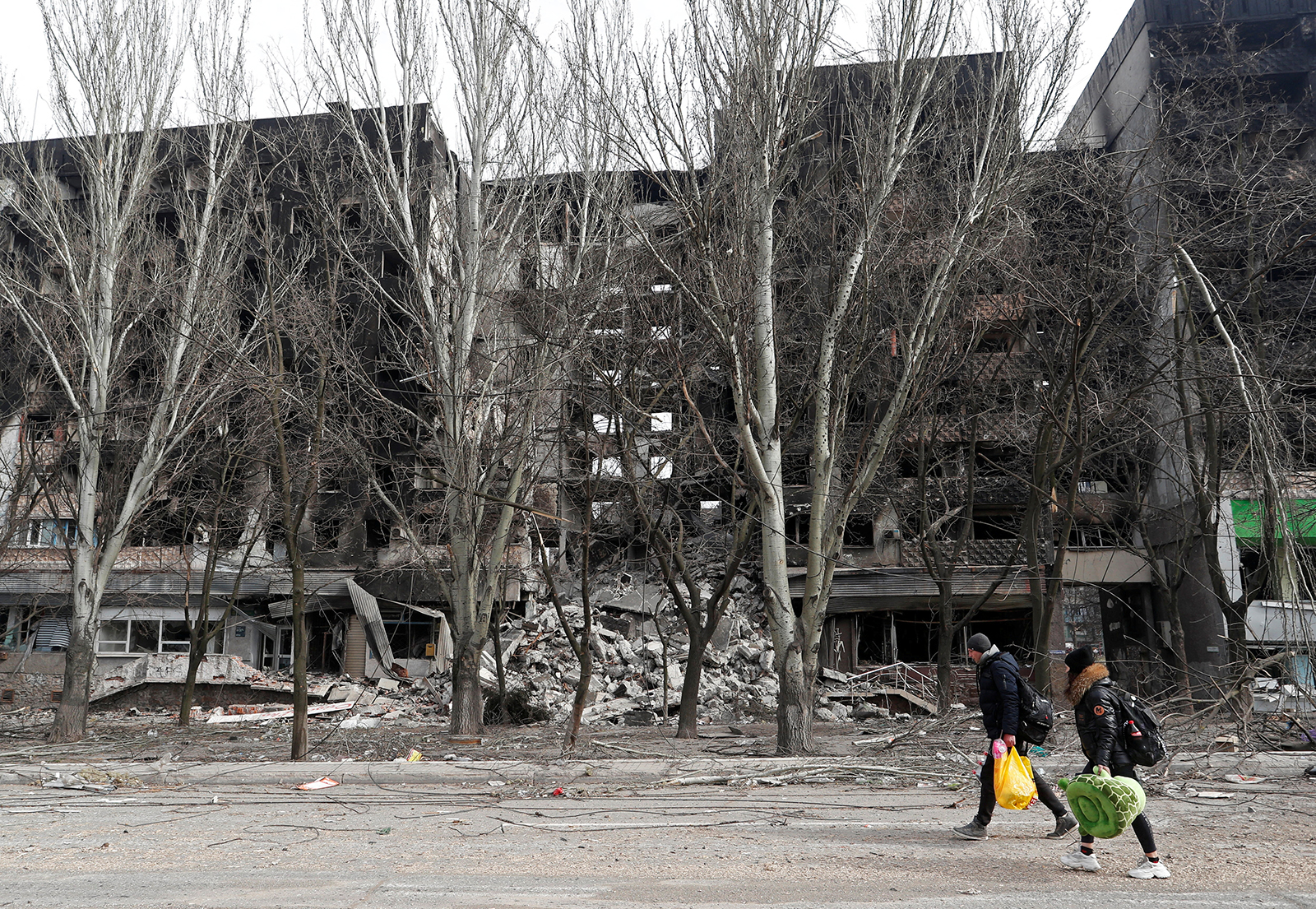 Russian forces have not allowed aid supplies to reach the besieged city of Mariupol, an adviser to the city's mayor said Friday, and it remains exceptionally difficult for trapped residents to leave the city.
"The city remains closed to entry and very dangerous to exit with own vehicle. In addition, since yesterday, the occupiers (Russians) have categorically not allowed any humanitarian aid, even the smallest amount, into the city," Petro Andriushchenko said in a statement on Telegram.
"The reasons for such actions are still unclear, but our predictions remain frustrated. We do not see a real desire of the Russians and their satellites to allow Mariupol residents to evacuate to Ukrainian-controlled territory."
Some context: Ukrainian minister Iryna Vereshchuk said about 100,000 civilians remained trapped in the city, which has suffered weeks of bombardment. Russian forces also blocked 45 buses en route to Mariupol on Thursday, she added.
Russia said it will reopen the evacuation corridor from Mariupol to Zaporizhzhia at 10 a.m. Moscow time Friday at the request of French and German leaders, according to the Russian Ministry of Defense. France said the evacuation corridor on Thursday was "insufficient" to allow rescue from Mariupol.
3 hr 48 min ago
Towns in Luhansk region hit by heavy shelling, regional military governor says
From CNN's Olga Voitovych in Lviv
Several towns in Ukraine's eastern Luhansk region have been hit by "heavy shelling" from Russian forces, the regional military governor said on Friday.
Some of the towns and cities struck include Severodonetsk, Rubizhne, Lysychansk, Kreminna and Ivanivka, Serhii Haidai, the head of the Luhansk regional military administration said in a statement.
"Two people died in Severodonetsk, residents of Lysychansk and Toshkivka were injured, four people were rescued," he said.
"There is no centralized water supply in Rubizhne, Popasna, Severodonetsk, part of the Hirske community and in Lysychansk. Twenty-eight settlements remain without gas supply and 22 without electricity." 
Ukrainian forces had also fought off attempts by Russian troops to bypass their positions near the settlements of Popasna and Novotoshkivske, Haidai said in a separate statement.
Some context: Ukrainian military governors in the country's east also reported heavy shelling on Thursday amid an apparent shift by the Russian military to redirect military efforts to the Donbas region. Haidai said earlier this week efforts had been underway to evacuate civilians from small towns in his region, even without such agreements with the Russian side.
4 hr 3 min ago
Ukrainian deputy defense minister: Russia is "trying to concentrate" missile systems in Belarus
From CNN's Olga Voitovych in Lviv
Ukraine's deputy defense minister said Russia is "trying to concentrate" missile systems in southeastern Belarus for potential use against Ukraine.
The assessment comes despite Russia's recent claims of a de-escalation around Kyiv and the northern city of Chernihiv.
"The enemy is not abandoning its plans to completely capture the Donetsk and Luhansk regions," Deputy Defense Minister Hanna Maliar said late Thursday in televised remarks.
"He is also encroaching on the Kharkiv region and trying to strengthen his position, to regroup troops."
Ukrainian forces are seeing Russian missile systems being sent near Gomel city in Belarus, Maliar said.
"The enemy is trying to concentrate them there, apparently due to plans to launch missile strikes or use them as a tool for blackmail and intimidation. Therefore, the territory of Belarus continues to be actively used by Russia to carry out aggression," she said.
Asked if she expected to see continued missile strikes on Ukrainian territory, Maliar said, "We have to be ready for this. The war continues. And it should be said that the enemy is not slowing down. Rocket attacks, their intensity is all the same as it was, sometimes even increasing."
Some context: NATO's chief warned that Russian forces are not withdrawing, but are repositioning as they maintain pressure on Kyiv and other cities. Ukrainian and US officials have also said Russians may be regrouping in Belarus.
5 hr 17 min ago
Analysis: Western spy agencies weaponize intelligence in attempt to undermine Putin
Analysis from CNN's Stephen Collinson
Western intelligence agencies are waging a psychological war over Ukraine directly with Russian President Vladimir Putin, an expert at the genre, who is now effectively taking a dose of his own medicine.
The United States and its allies are painting a picture of a bogged down, demoralized and dysfunctional Russian military taking disastrous losses on the battlefield, and are simultaneously conjuring a vision of growing political tension inside the Kremlin.
They claim the Russian leader is isolated, poorly advised and lacking real intelligence on just how badly the war is going.
Western governments are preventing Putin from defining the narrative of the war.
It is a tough position for a Russian leader who has often deployed information warfare himself, notably while meddling in US and European elections.
The remarkable detail of the declassified intelligence assessments must also be especially galling to Putin, a former KGB officer and intelligence chief. And they leave open the possibility that Western intelligence agencies have the capacity to see deep into the Kremlin's war effort and internal politics, which is likely to infuriate the Russian leader and could open further cracks in his regime.
Read the full analysis here:
5 hr 46 min ago
Russia's Sergey Lavrov set to meet India's Narendra Modi in New Delhi
From CNN's Esha Mitra and Vedika Sud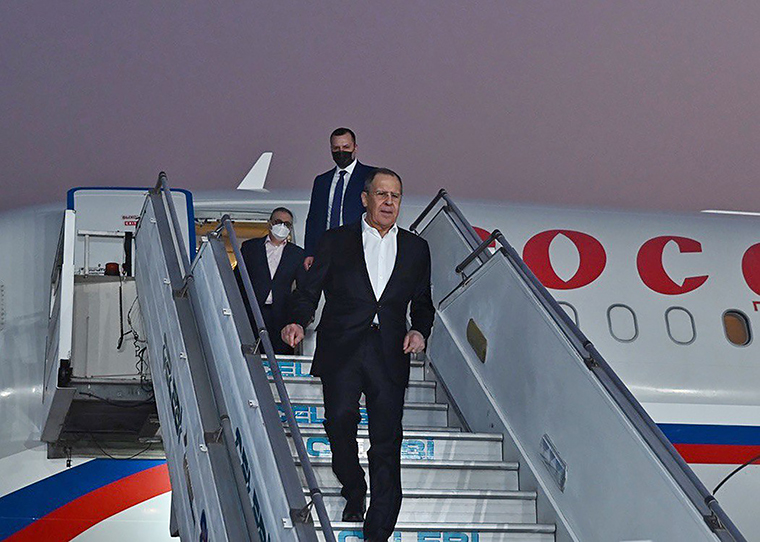 Russian Foreign Minister Sergey Lavrov — who arrived in New Delhi on Thursday — is set to meet with Indian Prime Minister Narendra Modi on Friday, according to the Minister of Foreign Affairs of Russia.
A senior Indian government official familiar with preparations for the talks said Modi will reiterate and stress the need for a cessation of hostilities and sovereignty as inviolable.
Lavrov will also meet Indian external affairs minister S. Jaishankar.
View from the US: Ahead of Lavrov's visit to India, US State Department spokesperson Ned Price told reporters that every country has its own relationship with Russia.
The US was not seeking to change that, but was looking for countries to speak "loudly against (Russia's) unjustified, unprovoked, premeditated aggression, calling for an end to the violence, using the leverage that countries, including India, have to those ends," Price said.
"There are countries that by dent of their long-standing relationships with the Russian Federation are going to have in some ways even more leverage than countries closer to us will."
UK Foreign Secretary Elizabeth Truss also met with Jaishankar on Thursday, repeatedly pointing out how countries across the world have stepped up in denouncing Russia's attack on Ukraine.
Some context: India has declined to take a stance on the conflict in Ukraine and has abstained from multiple United Nations votes. India has welcomed several foreign leaders to the country this week with various discussions on Ukraine.
Read more about Lavrov's visits to China and India here: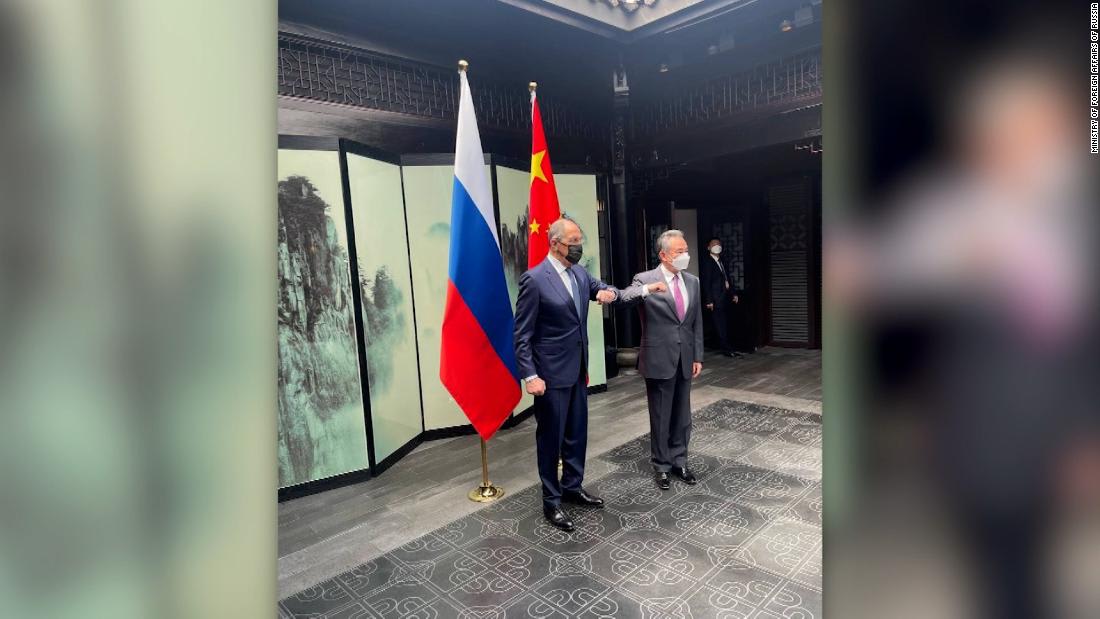 5 hr 50 min ago
PM Scott Morrison: Australia will send armored vehicles to Ukraine after Zelensky's request
From CNN's Angus Watson and Sophie Jeong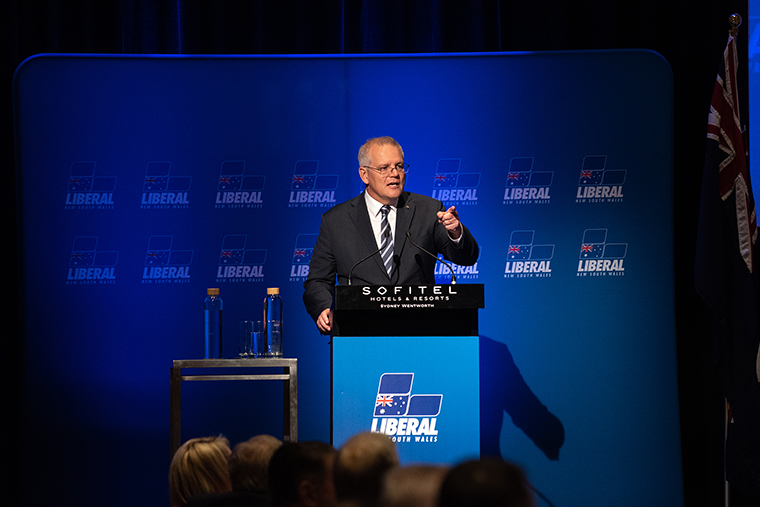 Australia will send locally produced armored vehicles to Ukraine after a request from President Volodymyr Zelensky, Australian Prime Minister Scott Morrison said on Friday.
Morrison did not say when or how many vehicles — known as Bushmasters — would be sent to Ukraine.
"We're not just sending our prayers, we're sending our guns, we're sending our munitions, we're sending our humanitarian aid, we're sending all of this and body armor," Morrison said.
"We're going to be sending our armored vehicles, our Bushmasters as well. And we're flying them over there on our C-17s."
Zelensky appealed for the armored vehicles while speaking to Australia's parliament via video link on Thursday, saying "we have to keep those who are fighting against this evil armed."
"You have very good armed personnel vehicle, Bushmaster, that could help Ukraine substantially, and other pieces of equipment that could strengthen our position in terms of armament," Zelensky said. "If you have an opportunity to share this with us we would be very grateful."
Zelensky also called for further sanctions on Russia.
Some context: Australia has previously provided military and humanitarian aid to Ukraine and also announced a ban on exports of alumina and aluminum ore to Russia. Russia relies on Australia for nearly 20% of its alumina needs, according to the Australian government.
6 hr 19 min ago
It's 7 a.m. in Kyiv. Here's what you need to know
Fourteen tons of food and medicine were confiscated by Russian forces along a humanitarian corridor on Thursday, a Ukrainian minister said, as focus remains on efforts to get aid in — and Ukrainians out — of bombarded areas.
Here are the latest developments in the war on Ukraine:
Confiscated aid: Iryna Vereshchuk, the Ukrainian minister of reintegration of temporarily occupied territories said some evacuation buses en route to Mariupol were held at a Russian checkpoint and 14 tons of humanitarian aid bound for Melitopol was confiscated by Russian troops on Thursday.
Evacuation corridors: Russian forces said they will reopen the evacuation corridor from besieged Mariupol to Zaporizhzhia on Friday at the request of French and German leaders. More than 100,000 civilians are trapped in the southern city, Ukrainian officials say, which has suffered weeks of Russian bombardment.
Shift to the east: Ukrainian officials reported heavy shelling in eastern Ukraine on Thursday, particularly in the Luhansk and Donetsk regions of the Donbas and around the northeastern city of Kharkiv, amid an apparent shift by Russia to redirect military efforts to the Donbas region. NATO's chief warned that Russian forces are not withdrawing, but are repositioning as they maintain pressure on Kyiv and other cities. Ukrainian and US officials say Russians may be regrouping in Belarus.
Troops from Georgia: Russia is redeploying some of its forces from the country of Georgia to reinforce its invasion of Ukraine, British military intelligence said. Russian troops have been stationed in Georgia following Russia's 2008 invasion of the former Soviet republic on its southwestern border. 
Talks to resume Friday: Ukraine's next round of negotiations with Russia will resume online on April 1, the head of the Ukrainian delegation said. But Andriy Yermak, chief of staff to Ukrainian President Volodymyr Zelensky, told CNN he has a "very, very small portion of optimism" following diplomatic negotiations in Istanbul earlier this week.
EU-China Summit: Chinese leader Xi Jinping and Premier Li Keqiang will meet with European Union leaders in an online summit on Friday, as China faces pressure to condemn the Russian invasion. The war in Ukraine will be a "main focus" of the summit, the European Council said.
Rubles for Russian gas: According to a newly signed decree, gas buyers from "unfriendly countries" will need to open and pay from ruble accounts in Russian banks, Russian President Vladimir Putin announced on Thursday. France, Germany and the UK said they will not pay for Russian gas in rubles.