30 min ago
Analysis: Here's how we know sanctions are hurting Russia
Analysis from CNN's Zachary B. Wolf
With much of the world economy repudiating Russia after President Vladimir Putin's invaders stormed into Ukraine, the country is on the cusp of a default on its foreign obligations.
The West's economic blockade and sanctions of an unprecedented scale are clearly having an effect.
Needing help: Russia has sought economic and military help from China, which has stayed notably aloof during the Ukraine invasion, according to conversations CNN had with two US officials. It's not clear whether China intends to provide Russia with that assistance, and both countries denied that Russia had made the request.
Here, have rubles: Russia is threatening to repay foreign creditors from "countries that are unfriendly" in badly devalued rubles, according to a report from CNN's Charles Riley. Either nonpayment or payment in rubles for more than $117 million in interest payments on dollar-denominated government bonds due Wednesday would mean Russia had defaulted on its debt.
Potentially seizing what remains: Separately, Moscow is threatening the growing list of companies pulling out of Russia, saying their assets could be seized by the state. The Russian Embassy in the US on Sunday dismissed reports Moscow could seize assets of Western companies as "pure fiction."
The only way this really ends: The question will ultimately be whether Russians are willing to accept their new status as global pariahs and give up the Western comforts some had grown used to. Putin is obviously willing to accept these things.
Read the full analysis:
47 min ago
NASA says American aboard International Space Station will come back on Russian rocket "for sure"
From CNN Business' Jackie Wattles
NASA said Monday that NASA astronaut Mark Vande Hei will return from the International Space Station later this month aboard a Russian Soyuz spacecraft as previously planned.
The space agency sought to reaffirm Monday that it's still working closely with Russian space agency Rocosmos on the International Space Station, despite mounting geopolitical tensions.
Vande Hei, who launched to the ISS in April 2021, is slated to make his return trip on March 30.
He'll land aboard the Russian Soyuz spacecraft in Kazakhstan, as is customary. NASA officials did not say there would be any significant changes to plans to get Vande Hei back to the United States after he lands.
Joint operations between NASA and Roscosmos at the Russian facilities at Baikonur, Kazakhstan "continue to go well," Joel Montalbano, the manager of NASA's International Space Station program, said, "I can tell you for sure Mark [Vande Hei] is coming home" on the Russian Soyuz spacecraft.
Some context: For nearly a decade, Russia's Soyuz vehicles had been the only means of getting astronauts to and from the space station.
It comes after Roscosmos chief Dmitry Rogozin made several fiery social media posts directed at the US, including a heavily edited, partially animated video that appeared to threaten that Russian astronauts would abandon Vande Hei in space. 
Read the full story: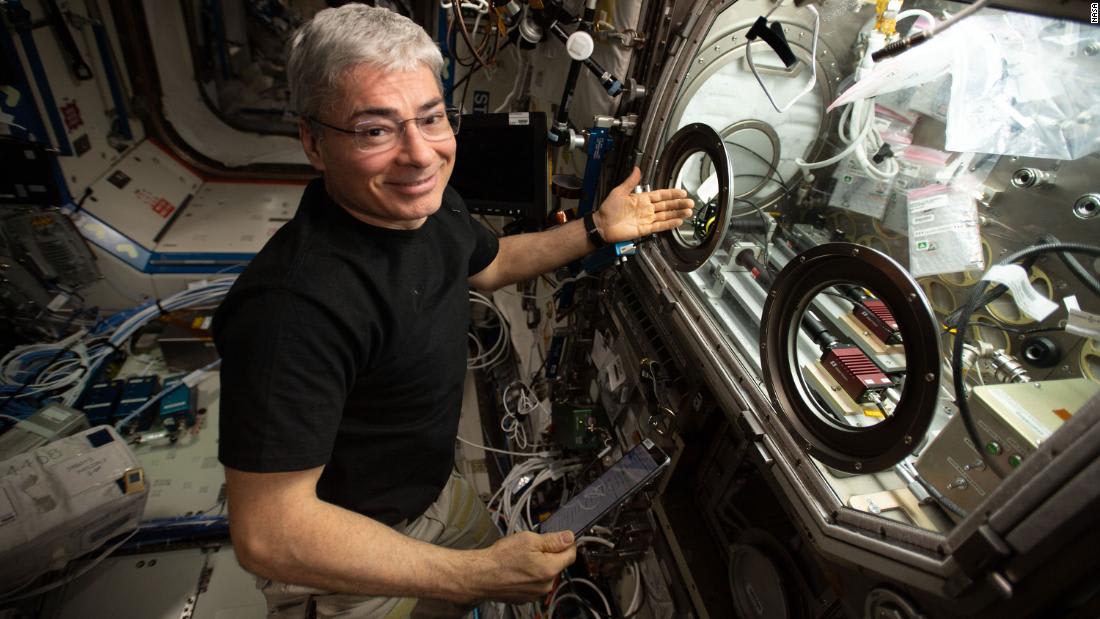 2 hr 1 min ago
Analysis: Putin's inhumanity sharpens Biden's historic dilemma
Analysis from CNN's Stephen Collinson
President Joe Biden's choices and challenges on Ukraine were already extremely tough. As the war's horror mounts, they are about to get even more excruciating.
Since Russia launched its onslaught last month, Biden has sought to punish and isolate President Vladimir Putin and to mitigate the slaughter of civilians by providing defensive weapons to the Kyiv government. But he's also calibrated his actions to avoid being dragged into a dangerous direct conflict with nuclear-armed Russia while finessing his own delicate political situation at home.
As Putin escalates his assault, Ukrainian President Volodymyr Zelensky gets more desperate and the civilian toll becomes more appalling by the day, Biden's balancing act becomes much harder.
The political heat on the President, after a period of unusual unity in Washington, is also about to rise. That will especially be the case if, as appears increasingly likely, the rest of the world is forced to watch an inhumane Russian siege and bombardment of Kyiv.
In a big Washington moment on Wednesday, Zelensky will deliver a virtual address to Congress. If his recent speech to the UK parliament, which drew Churchillian comparisons, is any guide, it will be a searing and inspiring rallying cry for lawmakers. If the Ukrainian President includes last-ditch pleas for fighter jets and a no-fly zone over his country, which Biden scotched on the grounds they could trigger war with Moscow, he will create extreme domestic pressure on the President.
Biden's problem is that after unleashing full-bore economic warfare on Russia with extraordinarily tough sanctions, there are now limits to the steps he can take to significantly turn up pressure on Putin without risking a direct military or cyber conflict. Some of the President's critics in Congress and in parts of the foreign policy establishment, including in his own party, argue that he's been too cautious.
Read the full analysis: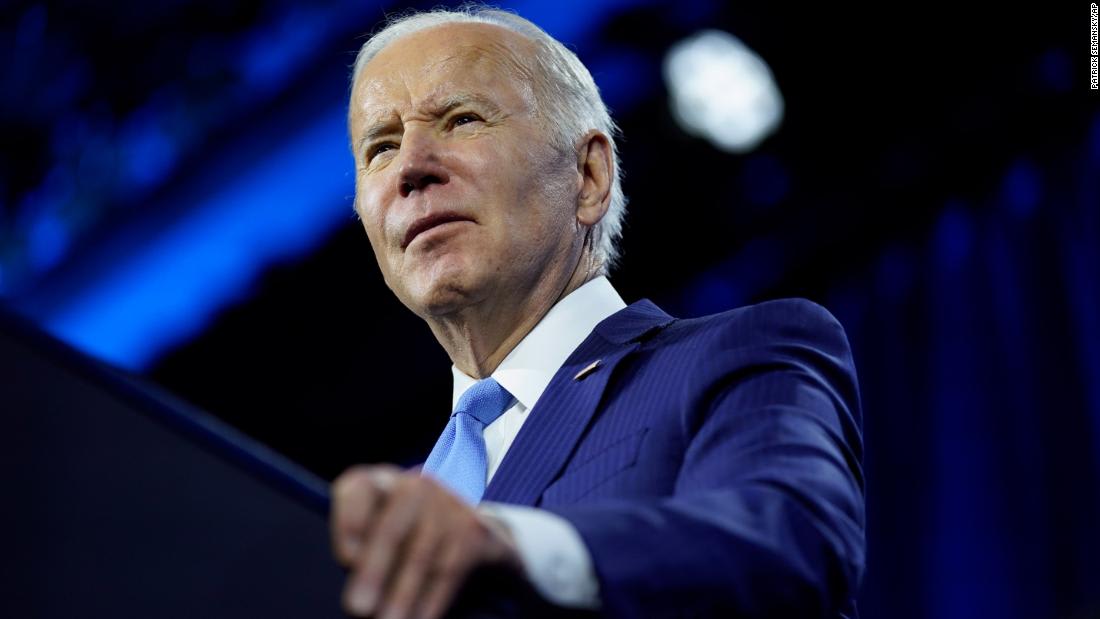 2 hr 3 min ago
Explosions heard from central Kyiv 
From CNN's Tim Lister in Kyiv 
Two very loud explosions were heard from central Kyiv around 5 a.m. local time Tuesday, according to CNN's team on the ground in the Ukrainian capital.
2 hr 10 min ago
It's 6 a.m. in Kyiv. Here's what you need to know
There were heavy explosions in Kyiv Monday and an apartment block in one of the city's suburbs was hit with a deadly strike. In the besieged city of Mariupol, more than 2,500 civilians have died, Ukrainian officials estimate, and those who remain are without electricity, water and heat.
Meanwhile, a fourth round of talks between Russian and Ukrainian negotiators were put on "pause" until Tuesday, according to Ukraine's negotiator who noted that "negotiations continue."
Here's the latest on Russia's invasion of Ukraine:
US cables raise questions on China: The US has information suggesting China has expressed some openness to providing Russia with requested military and financial assistance, a Western official and a US diplomat told CNN. But it is not yet clear whether China intends to provide Russia with help. China's top diplomat, Yang Jiechi, told US officials Beijing regrets the war in Ukraine but will not stand for any attempts to "smear" China over its position. The US has conveyed directly to China the potential negative outcomes of assisting Russia in its war with Ukraine. Among the assistance Russia requested was pre-packaged, non-perishable military food kits, known in the US as "meal, ready-to-eat," or MREs, according to two sources familiar with the matter.
Reporter injured: Fox News correspondent Benjamin Hall, who had been deployed in recent weeks to cover the war in Ukraine, has been hospitalized after being injured while reporting near Kyiv, the network said Monday. Hall's injury comes one day after Brent Renaud, an award-winning American journalist, was killed in the Ukrainian city of Irpin.
NATO leaders meeting on the cards: The leaders of NATO could meet in person in Brussels as soon as next week for what would be an extraordinary meeting, according to a diplomatic source. Separately, this week's meeting of NATO defense ministers is expected to focus on the alliance's next steps to strengthen its defensive presence in eastern Europe in the wake of Russia's invasion of Ukraine.
Russia "broadening" targets: A Russian attack on a Ukrainian military training facility near Lviv on Sunday is the third airstrike in western Ukraine, Pentagon spokesperson John Kirby said. With the latest strike, "it certainly appears as if the Russians are broadening their target set," Kirby added. The Pentagon does not believe the strike was a sign that Russia was targeting the delivery of foreign security assistance to Ukraine. 
Russian protester: Maria Ovsyannikova, a Russia Channel One employee, held an anti-war sign to interrupt one of Russia's major state television broadcast news programs in prime time on Monday. "NO WAR. Stop the war. Do not believe propaganda they tell you lies here," the sign read. Ovsyannikova's lawyer later said he is unable to find his client, despite reports she is in a Moscow police station.
Assault on cities: One person died and six more were injured when an apartment building in Kyiv's Obolon district was hit Monday. New satellite images show nearly every single house in the northwestern side of the village of Moschun, near Kyiv, has sustained significant damage. And images show more destruction in Mariupol, including damage to the Regional Intensive Care Hospital.
3 hr 21 min ago
Video shows Ukrainian artillery strike on Russian military position in forest outside Kyiv
From CNN's Paul P. Murphy
The Ukrainian military has conducted an artillery strike on a Russian military position in the outskirts of Kyiv, new video published Monday shows. 
The video was taken by a drone and shows the Russian military position in a forest.
The Ukrainian military did not say where the video was filmed but CNN has geolocated the clip to a grove of trees just east of the village of Ozera, northwest of Kyiv.
It's unclear when the barrage occurred but NASA satellite sensory data from the Fire Information for Resource Management System indicates that several explosions took place around the area on March 11.
As the camera zooms out, the artillery barrage is seen hitting the grove of trees. The village of Ozera and the northern end of the runway at Antonov Air Base is visible.
The villages of Ozera and Moschun — 2 miles (3 kilometers) east across the Irpin River — have been significantly damaged by military strikes.
5 hr 17 min ago
New satellite images show additional damage in Mariupol and outside of Kyiv
From CNN's Paul P. Murphy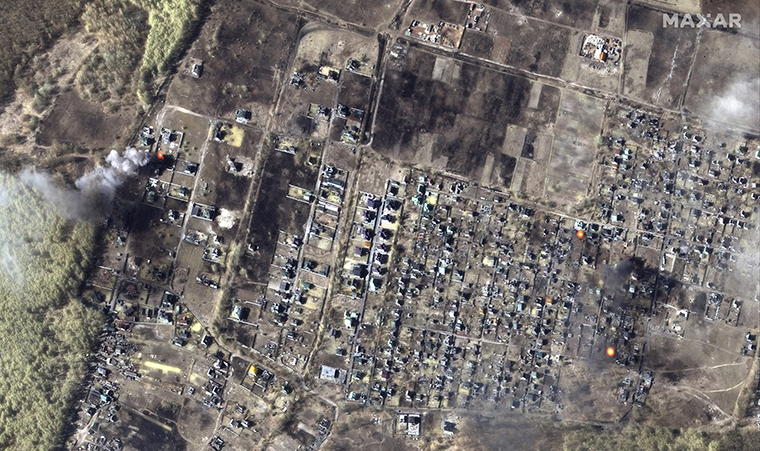 New satellite images from Maxar Technologies are helping to shed light on the areas impacted by military strikes across Ukraine.
Just 24 miles (39 kilometers) northwest of central Kyiv, the satellite images show that nearly every single house in the northwestern side of the village of Moschun has sustained significant damage.
Fires are still burning in some of the houses while the fields surrounding the village are also scorched.
The photos, taken on Monday, also show damage across Mariupol. The satellite images are offering the only look at the latest destruction in the city.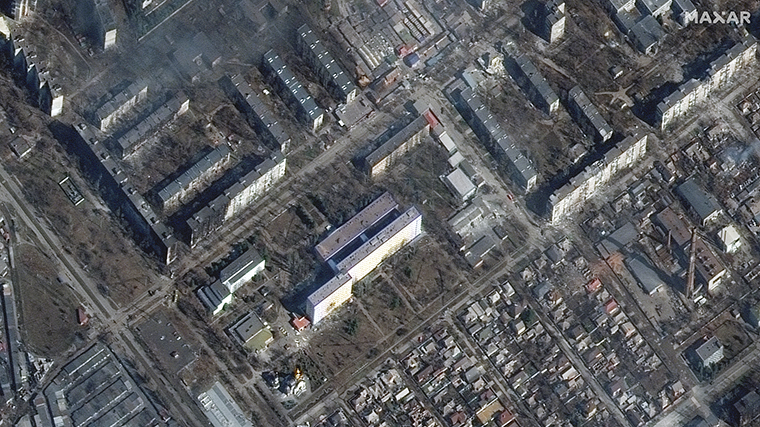 Mariupol's Regional Intensive Care Hospital in the city's Zhovteneyvi neighborhood has a hole in the southern facade of the building, while debris is also scattered outside. 
It's unclear which side is responsible for the damage at the hospital. Nearby the hospital building, a number of apartment complexes appear to have been significantly affected with one seeming to have suffered noticeable fire damage.
Roughly a mile south, in the Primorskyi neighborhood, a number of homes are seen smoldering after an apparent military strike. Nearby apartment complexes have also sustained damage, while additional homes in a residential area in the city's center are also affected.
3 hr 21 min ago
Underneath embattled Kyiv, babies born to foreign parents via surrogate shelter in a basement
From CNN's Rebecca Wright and Olha Konovalova
The thunder of explosions occasionally rattles the basement that has become the temporary home to 21 babies of foreign parents born to Ukrainian surrogates.
The BioTexCom Center for Human Reproduction surrogacy center in Kyiv was moved to the concrete bunker on the first day of the Russian invasion nearly three weeks ago, to protect the babies from any incoming fire.
But located just over 9 miles (14 kilometers) from Irpin, a suburb that has been a target of a Russian onslaught, it is still far from safe — making it difficult for the new parents, who are in countries such as Canada, Italy and China, to collect the babies.
On Monday morning, a 30-year-old surrogate arrived at the makeshift clinic with the baby boy she delivered in hospital a week earlier. She was unable to hold back her tears as she handed baby Laurence over to the staff.
"It is even harder that he is in a place where there is shelling," said the surrogate, who only wanted to use her first name, Victoria. "And when will his parents get to take him away because of it? It's really hard."
Baby Laurence's biological parents, who provided both the sperm and the egg for the pregnancy, live abroad. But it's unclear when they will be able to collect their son.
Read the full story: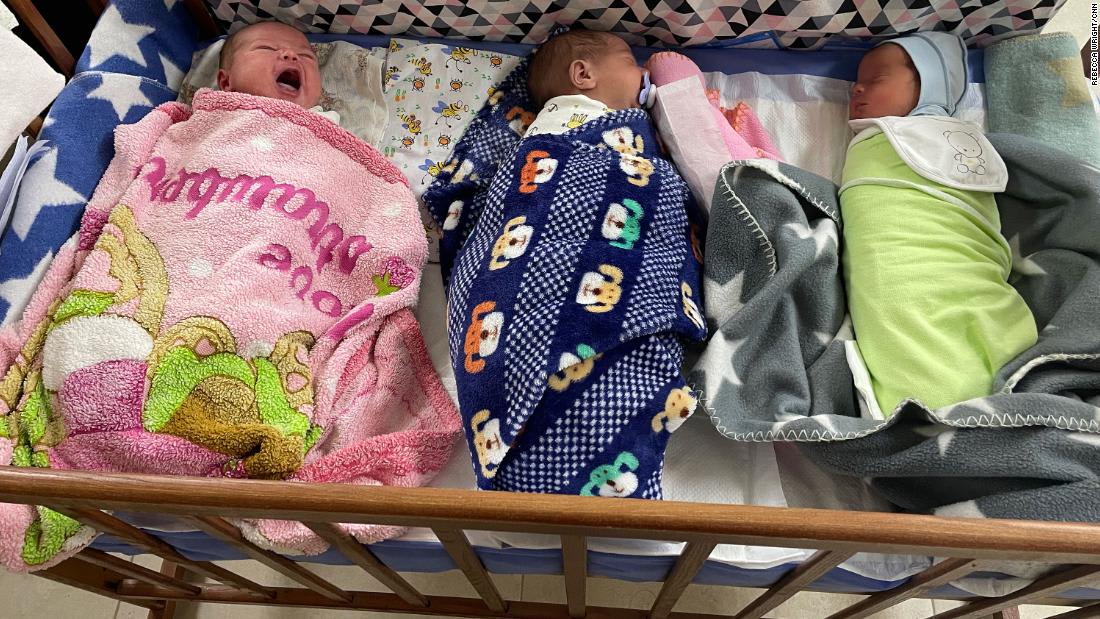 6 hr 13 min ago
Russia is trying to install pro-Kremlin officials in occupied cities, but Ukrainians are fighting back
From CNN's Rob Picheta, Paul P. Murphy, Josh Pennington, Emmet Lyons, and Mariya Knight
Russia is facing new forms of resistance in the cities it has seized in Ukraine, where attempts to abduct and replace political leaders have been met with legal pushback and defiant public protests.
Russian troops have detained the mayors of at least two regions, Ukrainian officials say, replacing one with a pro-Kremlin opposition member. Lawmakers in a third Russian-occupied city say the groundwork is being laid for a political coup.
Despite overcoming significant Ukrainian military resistance to occupy the territories, attempts to oust local leaders have led to new difficulties for Moscow.
Ukraine's prosecutor general has opened a treason investigation into Galina Danilchenko, the newly installed mayor of Russian-occupied Melitopol in southeastern Ukraine, after the city's elected mayor, Ivan Fedorov, was arrested by armed men on Friday.
The move follows a plea on Sunday by the city's lawmakers for a criminal investigation of Danilchenko over what they called "the high crime of treason, for attempting to set up an occupying government in Melitopol."
The city council accused Danilchenko — who is a former member of the city council, according to the Zaporizhzhia regional administration's website — of dissolving the city government and transferring its powers to a People's Deputies Committee.
Danilchenko declared herself the local leader and immediately said in a televised address Sunday that "Russian TV channels" would begin broadcasting in the city, which has been occupied by Russia since the first days of the invasion.
Her ascension was met by angry protests on Saturday, when several hundred people demonstrated outside the city hall, chanting "Freedom for the Mayor" and "Fedorov."
The Russian-backed regional prosecutor of Luhansk, a separatist-controlled region nearly 300 miles from Melitopol, claimed the rationale for Fedorov's arrest was that he had committed terrorism offenses.
Read more: