Seen and heard from Salt Lake City: Late tip alters Cats' plans; Kim Aiken off UA's roster; Justin Kier takes in the West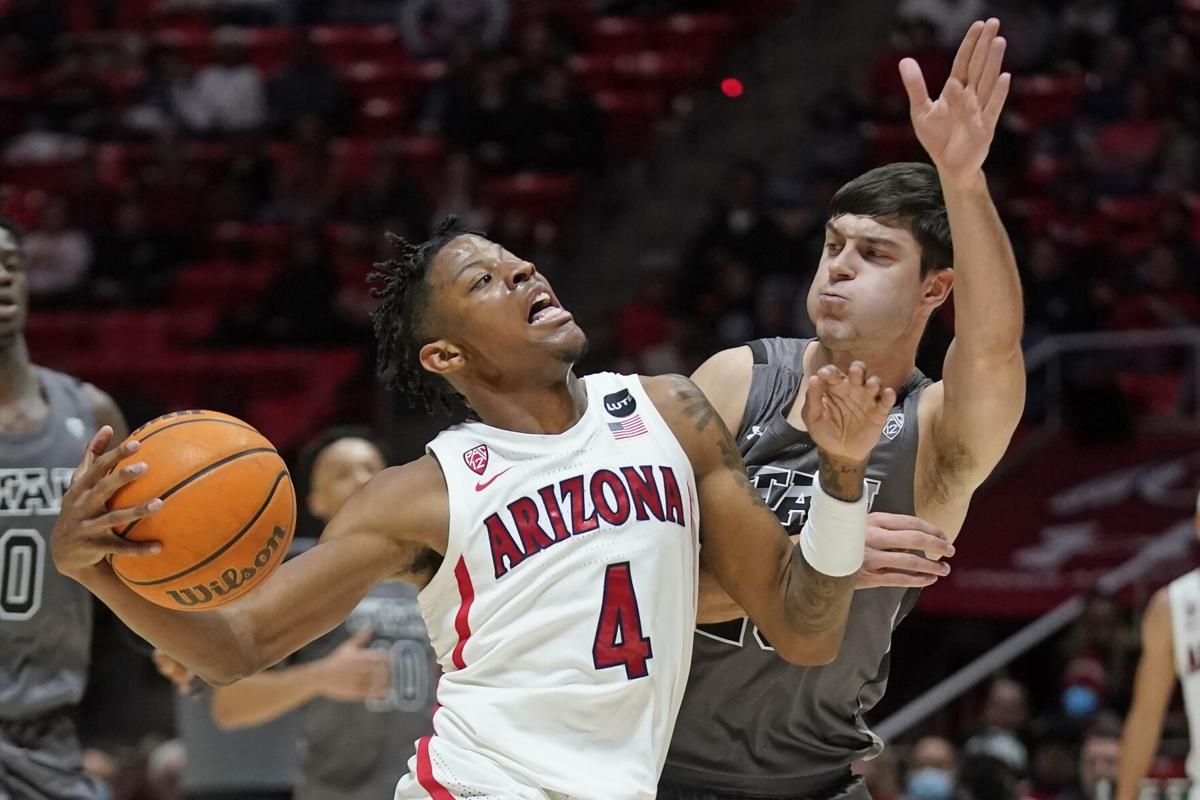 Sleep comes first
Normally when playing Utah on a Thursday night before facing Colorado, the Wildcats bolt for Boulder right away on a midnight flight over the Rockies. Since players are normally too wired to go to sleep quickly after a game anyway, the strategy has been to fly while they wind down and still get everyone in bed around midnight or 1 a.m.
Thursday's 9 p.m. tipoff changed that thinking.
UA basketball operations director TJ Benson said he and coach Tommy Lloyd figured the late tip could easily translate into a bedtime of 3 or 4 a.m. if anything was delayed in the game (it was delayed until about 9:15) or the weather (it was forecast to snow lightly overnight Thursday).
"He said, 'I'd rather have them sleep in and practice in Colorado (on Friday) night,'" Benson said. "You don't want to get in at 3 or 4 in the morning."
So the Wildcats instead returned to their Salt Lake City hotel after Thursday's game and were scheduled to leave in the early afternoon Friday for Rocky Mountain Metropolitan Airport in Broomfield, Colorado, which is only about 14 miles from Boulder. They were then scheduled to practice at CU on late Friday afternoon.
Aiken dropped from roster
Although he hasn't played a game for Arizona since Dec. 5, forward Kim Aiken had been listed consistently on UA rosters on its website and game materials.
But this week, UA removed him from its online roster, appearing to make it official even as Aiken was still listed on the game materials distributed at Utah on Thursday. The UA has not given a reason for Aiken's departure, except to say it's for personal reasons. He remains listed in the UA's student directory.
Although he still has a year of eligibility remaining, Aiken may have finished a short UA career by playing in only seven games, averaging 5.0 points and 3.4 rebounds. He played a key defensive role off the bench early this season, guarding big wings or forwards. Since Aiken's departure, that role been taken by sophomore guard Pelle Larsson.
Curtains
With an 11-16 record heading into Thursday, Utah hasn't found much of a need for its upper-section seats at the Huntsman Center this season.
So except for Nov. 27 game with BYU that drew about 12,000 fans, Utah has wrapped black curtains around its upper seats. That effectively lowers the Huntsman Center capacity from 15,000 to about 8,500.
No masks required
For the first time since the Wildcats played at Tennessee on Dec. 22, they were doing so in a building where there was no mask-wearing mandate. The Pac-12 required some staffers to wear masks courtside, however.
Green's good timing
Green arrived just before tipoff and sat immediately behind the end of the Wildcats' bench, seen chatting with walk-on forward Jordan Mains, one of two Wildcats remaining from when Green spent the 2019-20 season with them. (Christian Koloko is the other).
Boo birds
Utah's student section appeared pretty tame Thursday, despite receiving free "MUSS" T-shirts. But not all the Huntsman Center fans took it easy on UA guard Pelle Larsson, who transferred from Utah to Arizona last spring.
Larsson was booed before taking his first 3-pointer, which missed before teammate Dalen Terry dunked it in, and then was cheered after wildly missing his second try. Larsson went scoreless in the first half with two rebounds.
Double salute
Utah turned Thursday's game into a doubleheader, with its women's team playing Oregon beforehand. Both men's and women's teams wore silver and black uniforms as part of military appreciation night and a salute to the USS Salt Lake City.
Interview videos of USS Salt Lake City veterans were shown on the Huntsman video board during timeouts. In the main concourse, Utah also stationed mannequins wearing the military Utah uniforms for football and basketball underneath a placard that told the USS Salt Lake City's story.
The ship was a World War II-era heavy cruiser "many thought had been lost to history," it said, noting that the Utah men's and women's teams "will shine a bright light on its forgotten remarkable story."
Brrr …
Since tickets were actually sold separately for both the men's and women's games, the initial plan was to ask those who bought both to clear the Huntsman Center and wait outside until it had been swept and prepared.
Since the women's game was held at 5:30, there was over 90 minutes before the men's game would start. But it was also 28 degrees outside.
So Utah officials let the 100 or so fans who were attending both games stick around so they could stay warm.
Quotable
Teammates "always make fun of me because I have my phone all the time taking pictures and videos to send back home because I've never been on the West Coast before. These are just memories for me. It's just been amazing places, great scenery."
— UA guard Justin Kier, before UA took another scenic journey through Utah and Colorado this weekend.
TV lineup set
UA's game at Colorado on Saturday will be carried on ESPN2, while ESPN will broadcast UA's game at USC on Tuesday. Then it's back to ESPN2 for Arizona-Stanford on March 3, while UA's regular-season finale against California on March 5 will be televised by Pac-12 Networks.
Contact sports reporter Bruce Pascoe at 573-4146 or bpascoe@tucson.com. On Twitter @brucepascoe
Get local news delivered to your inbox!