NEWYou can now listen to Fox News articles!
The White House said it "strongly condemns" a deadly attack from Yemen's Houthi rebels on an Abu Dhabi oil facility on Monday that killed three people and sparked a fire at a nearby airport. 
"Our commitment to the security of the UAE is unwavering and we stand beside our Emirati partners against all threats to their territory," National Security Advisor Jake Sullivan said in a statement Monday.
On Twitter, Emirati diplomat Anwar Gargash blamed the Iran-backed Houthis for the attack. 
US EMBASSY IN BAGHDAD TARGETED BY 4 ROCKETS: IRAQI OFFICIALS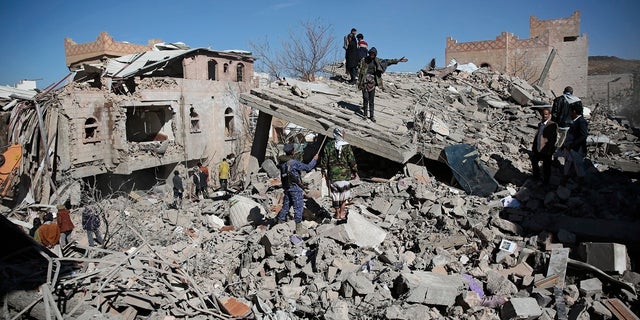 Yemenis inspect the wreckage of buildings after they were hit by Saudi-led coalition airstrikes, in Sanaa, Yemen, Tuesday, Jan. 18, 2022. (AP Photo/Hani Mohammed) (AP)
"Terrorist militias' tampering with the stability of the region is too weak to affect the security and safety process we live in, and the fate of this reckless and absurdity is to demise and defeat," he wrote. 
The Abu Dhabi National Oil Co., known by the acronym ADNOC, is the state-owned energy firm that provides much of the wealth of the UAE, a federation of seven sheikhdoms on the Arabian Peninsula and also home to Dubai.
Monday's attack brought the long-running Yemen war into Emirati territory even as fighting raged on overnight with Saudi-led airstrikes pounding Yemen's capital, Sanaa, killing and wounding civilians. Meanwhile, fears over new disruptions to global energy supplies following the attack pushed benchmark Brent Crude to its highest price in years.
The attack killed two Indian nationals and a Pakistani citizen. Three tankers exploded and six people were wounded at the facility, which is located near Al-Dhafra Air Base, also home to American and French forces.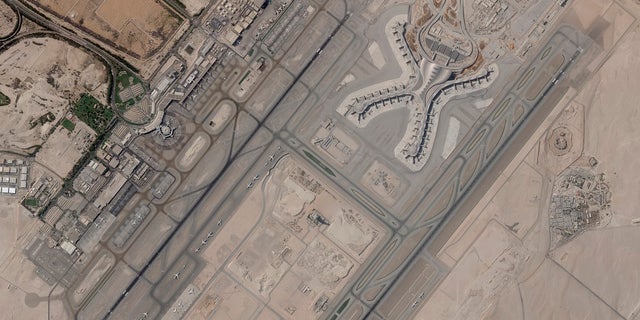 In a satellite photo by Planet Labs PBC, Abu Dhabi International Airport is seen Dec. 8, 2021. A suspected drone attack by Yemen's Houthi rebels targeting a key oil facility in Abu Dhabi killed three people and sparked a separate fire at Abu Dhabi's international airport on Monday, Jan. 17, 2022, police said. (Planet Labs PBC via AP)
A fire also struck at the Abu Dhabi International Airport. Authorities said the attack was from a drone and Houthis claim they used cruise and ballistic missiles in the attack, without offering evidence.
The Saudi-led coalition fighting in Yemen said Tuesday it started a bombing campaign targeting Houthi sites in Sanaa and struck a drone-operating base in Nabi Shuaib Mountain, near the Yemeni capital.
Although the UAE has largely withdrawn its own forces from Yemen, it is still actively engaged in the conflict and supports Yemeni militias fighting the Houthis.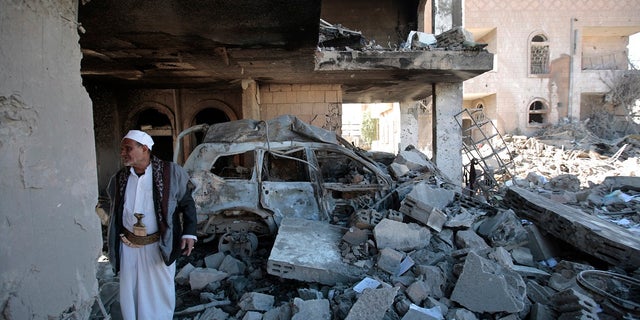 A man inspects the wreckage of a building after it was damaged in Saudi-led coalition airstrikes, in Sanaa, Yemen, Tuesday, Jan. 18, 2022.  (AP)
CLICK HERE TO GET THE FOX NEWS APP
The incident comes as the Houthis face pressure and are suffering heavy losses on the battlefields. Yemeni government forces, allied and backed by the UAE, have pushed back the rebels in key provinces. 
Aided by the Emirati-backed Giants Brigades, the government forces took back the province of Shabwa earlier this month in a blow to Houthi efforts to complete their control of the entire northern half of Yemen.
The Associated Press contributed to this report.